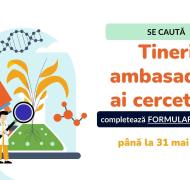 For the attention of PhD students and young researchers!
European Researchers' Night 2022-2023 is announcing an open call for young researchers to become research ambassadors in schools! 
The goal of this call is to raise awareness about research in society by promoting young researchers, demonstrating the impact of research results on social well-fare and quality of life and encouraging young people to choose a research career. 
During 2022-2023 several schools and colleges will be selected where young researchers will deliver lectures, presenting their research activities and results to pupils and teachers. Lessons will be followed by a series of pupils' visits to research laboratories, where research ambassadors will showcase their scientific activities. The young researchers will continue collaboration with pupils by joint development and promotion of scientific content on social media. 
The interested researchers are asked to fill in the application form at https://bit.ly/3yYmwld until May 31, 2022. The applicants will be selected on a competitive basis.
For details, please contact: 
noapteacercetatorilor.md @ gmail.com
0690 19 522