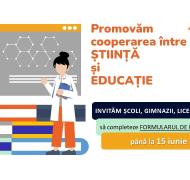 For the attention of teachers and managers of pre-university educational institutions !
As part of the European Researchers' Night, actions to promote scientific research activities for pupils, students and teachers are planned during 2022 and 2023.
The purpose of the actions is to promote STEAM in pre-university institutions and raise awareness about science in society by promoting young researchers, demonstrating the impact of research results on social well-being and quality of life.
Pupils, students and teachers of the selected institutions will have the opportunity to participate in the following activities:
public lectures presented by young researchers;
visits to research laboratories with practical scientific experiments;
5-day summer school "Insight STEAM-2023".
The interaction of teachers with young researchers will provide the opportunity to develop contacts between the academic research environment and the pre-university educational system in the Republic of Moldova. Pupils and students will have the opportunity to talk directly with researchers regarding personal development, career guidance and the advancement of a scientific career.
Interested pre-university educational institutions (schools, high schools, gymnasiums, colleges) are asked to fill in the registration form at https://bit.ly/3wBpQQ2 by June 15, 2022.
For more information: please contact us at noapteacercetatorilor.md @ gmail.com or at 0690 19 522
---
This activity is organized in the framework of the European Researchers' Night 2022-2023 project "GreenSCI - Green Science at the service of Healthy Society", which aims to increase public recognition of science, promote young researchers and sustainable innovations and demonstrate the impact of science and innovations on daily life and social welfare.
The GreenSCI project is funded by the European Union program for research and innovation Horizon Europe, grant agreement no. 101060678.