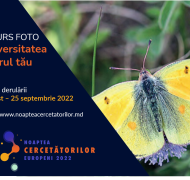 Being eco is in trend! We invite you to celebrate together via the "Biodiversity around you" photo contest organized by the European Researchers' Night in 2022!

Why biodiversity is important?
Without biodiversity our life and well-being would be impossible. Biodiversity provides us with food, drinking water, medicine, genetic resources and materials. Thanks to it, we have fertile soils and clean air. But at the same time we are also the ones who have a huge negative impact on biodiversity, through the modification of natural habitats,  exploitation of resources, pollution of water, air and soil.
There are over 1,000,000 insect species in the world - the most diverse group of animals on Earth. The number of insects globally is decreasing annually by 2.5% due to ecological imbalance, massive deforestation, destruction of natural habitats, climate change phenomena, which are actually the results of reckless human activity.

How you can participate?
The number of insects included in the Red Book of the Republic of Moldova reached 80 species in 2015 and includes species of wild bees, bumblebees, ladybirds, ants, dragonflies, which today are threatened with extinction.
Until September 25, 2022, send us a photo of rare insects that you have noticed in the garden, park, forest or even in your home yard. The contest is open for all, children, young people and adults who are passionate about nature.
Take a photo of one of the rare insects from the Republic of Moldova (what they are, you can find out HERE and on our Facebook page).
Fill in the online PARTICIPATION FORM and don't forget to accept the Terms and Conditions of the contest.
Follow us on the project's Facebook page and on www.noapteacercetatorilor.md to see who will manage to capture in pictures the rarest insects in our country.
Who will be the winner?
A jury of specialised researchers will choose 5 winners, who will get valuable and useful prizes. The award ceremony will take place on September 30, 2022, during the European Researchers' Night in Chisinau.
Join us in promoting and preserving biodiversity in your country!