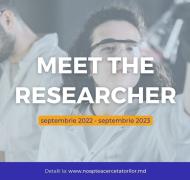 Many of us have probably wondered what it means to be a researcher and how interesting or challenging research activity can be. At the same time, it is clear that great science does not speak for itself and those who can answer these questions are the scientists themselves.
We understand that stories about people work best. This is why we are launching the "Meet the researchers" campaign, which will take place between September 2022 and September 2023 as part of the European Researchers' Night 2022-2023 project.
We invite young and experienced researchers from the Republic of Moldova to tell us about their academic career, why they chose their research field and what scientific results they want to achieve. We know that time is the most precious resource, that's why we are waiting for written contributions or video recordings (up to 2 minutes in duration) with answers to these 5 questions.
All video or text reports will be available on the project page at https://noapteacercetatorilor.md/
 
---
"Meet the researchers" campaign is part of a series of activities organized in the framework of the European Researchers' Night 2022-2023. Among the main objectives of the project are increasing the visibility and promotion of research and researchers among the general public, but also highlighting the impact of research and innovation on everyday life and social well-being.

For more details, feel free to contact us at noapteacercetatorilor.md @ gmail.com