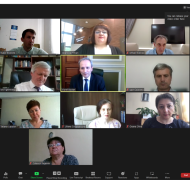 On June 16, 2022, the "Challenges and opportunities of a research career" webinar was organised. The webinar was attended by over 55  researchers, teaching and management staff from higher and general education institutions, librarians, etc.
The participants of the event were greeted by the uniersity professor Viorel Bostan, dr. hab., rector of the Technical University of Moldova, academician Ion Tighineanu, dr. hab., university professor, president of the Academy of Sciences of Moldova,  dr. Valentina Prițcan, associate professor, vice-rector of the State University "Alecu Russo" from Balti, dr. Igor Cojocaru, administrator of AO InfoGroup.
The guests of the webinar shared personal experience on their scientific careers, especially those who have worked abroad: 
Mihail Todiraș, dr. hab. in medical sciences, university professor and senior scientific researcher at the State University of Medicine and Pharmacy "Nicolae Testemitanu", visiting professor at the Max Delbrück Center in Germany;
Vasile Tronciu, dr. hab. in physical and mathematical sciences, university professor, vice-rector for research and doctorate, Technical University of Moldova, recipient of JSPS (Japan), Alexander Humboldt (Germany) scholarships,
Ina Chirila, doctor in history, library manager at the National Archives of Iași, Romania.
The speakers shared their insights on the opportunities in various fields: medicine, exact sciences and history, they highlighted the "ingredients of a successful scientific career" and explained what motivated them to choose a research career and why they chose a particular field of research; the programs to which they applied for a research internship/mobility abroad; the importance of researchers' collaboration with the educational / business environment / decision-makers, etc. 
The webinar speakers also came up with some recommendations for those choosing to follow a research career:
During the study years, to visit as many laboratories as possible, to participate in various scientific groups, in order to make informed choices based on their own experience;
To attentively choose the field of research and the scientific supervisor who will share their knowledge;
To study well the emerging trends in the field, which will be important in the future (personalized medicine, molecular medicine, artificial intelligence, innovative technologies, etc.);
To send their applications  to several programs / organizations interested in such research;
To identify partners abroad for fundamental research, business and academia representatives etc.;
To get out of their comfort zone to search, respond to the current challenges demands.
The VIDEO recording of the webinar is available on the project's YouTube channel.